frequently asked questions
how do preorders work?
---
When you preorder, you are paying a deposit fee (this goes towards the total amount of item) to reserve your spot for a product. Once preorders close, I will start making the items ordered. then, when I am finished and ready to send out your items, I will list the release remainder fee, which you will pay along with shipping! example: JSK Full Price: $100 step 1: pay preorder deposit $20 step 2: wait for production step 3: production finished, pay remaining $80 + shipping step 4: receive your products! Please keep in mind preorder deposits are nonrefundable. if you preordered an item and no longer wish to pay for the remaining fees, you can try to sell your spot to another person. Please email me about the transfer to avoid mixups.
---
how do i know when to pay release fee? what happens if i dont pay it?
---
The release fee listings will be up once I am ready to ship everyone's orders. You will get a notification email about the update and I will also announce on social media. The release fee will be up for two weeks for everyone to pay for their items. If you do not pay your release fee by the end of that period, your reserved item(s) will be put up for sale. Please note again deposit fees are nonrefundable.
---
will you have ready to ship items?
---
Any preorder items that were reserved but I did not receive release fees for, will go up for sale as ready to ship. As for other items, since this is my first launch I will have to see how it goes!
---
it doesnt fit! what do i do?
---
In the case where your MTO item does not fit correctly, please message me and we will work out a solution! I am more than willing to alter your piece for you, but please refer to my size charts carefully before putting in an order! If you are unsure of my sizes, feel free to message me.
---
what is your return policy?
---
I do not accept returns for any of the following reasons: 1. I didn't like it 2. I didn't want it anymore 3. I bought impulsively, now I need the funds back 4. My mom bought this, but I don't want it 5. I bought this for my friend, they didn't like it. If you received your items with flaws such as tears/rips or discoloration, please contact me within a week of receiving. I make sure to quality check everything I send out, but I cannot guarantee what happens during transit. Since these are handmade items and I am only one person making everything, please treat your items with care. I will not accept returns for busted seams or holes or fading from mistreatment. If you do come across a problem soon as you tried to put on my items for the first time, please contact me immediately.
---
do you accept rush orders?
---
Currently, no. I am only one person sewing for my entire store, and I am also still in university. Unfortunately I cannot make exceptions for you that doesn't fit into my estimated production time.
---
how do i wash your printed items?
---
Please start by doing a spot check for every color that is on the print. Wash in cold water, handwash reccomended since it is handmade. Air dry flat, hanging the garment can cause uneven drapes or stretching. I highly reccomend Tyler's video on how to wash your dresses: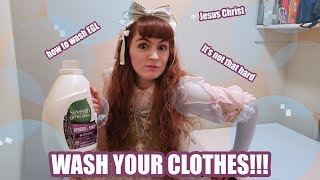 ---
can i commission a custom print or item?
---
You can commission custom accessories if it is within my abilities and resources. I have not yet considered custom prints or garments yet but this is TBD!
---
do you ship to my country? how long will it take?
---
Since this is still a conflicting time due to Covid-19, I will have to check if I can ship to your country. Please check first if I am able to ship to you from USA. Ems is impacted so it might take a long time. USPS: https://about.usps.com/newsroom/service-alerts/international/welcome.htm I should be able to ship to most countries via UPS, Fedex, and DHL if necessary.
---
are you self taught? can you teach/tell me where you get your supplies?
---
No, I cannot teach you. I studied fashion design in university which is where I learned a lot of my sewing skills and standards. I am now studying fine art so that is how I am able to execute my print designs. I also will not share with you my resources or suppliers, as I have poured hours and money into finding them. Please do research on your own.
---
i missed the preorders! will there be rereleases?
---
Depending on the popularity of the items, they may cycle back!
---
are your designs original?
---
all my prints and graphics are drawn and designed by me! (well, there are some free to use vector art from wix on this website lol) i do take inspiration obviously from many brands and artists, but i do my best to be myself. so please do not copy or steal my prints, designs, illustrations, graphics, and garment flats or repost/claim as your own!
---
whats your production like?
---
I am one girl making everything!!! I do the concept, design, sewing, marketting, shipping, customer service, yada yada by myself. So please be understanding if there are delays in my services. I make everything with my Brother and Juki machines at home in USA, with materials sourced from USA, Japan and China.
---
---